It's time for the second edition of the Crazy Cooking Challenge! And for October, we are in search of the ULTIMATE chocolate chip cookie recipe! Enjoy the post and don't forget to vote at the bottom for your favorite recipe!
Growing up, my sister and I were always delighted when our mom would let us get a cookie at the local snack shop in the mall. We were beyond ecstatic when she agreed to a Double Doozie! Have you ever had one of those? It's two cookies with icing between them. We usually couldn't finish them because they were so big and it was just too much of good thing. Wait, did I really just say that? Is there such a thing as too much of a good thing???
So you can imagine my excitement when I stumbled across
Crumbs and Chaos' Double Doozie recipe
while surfing on Pinterest for chocolate chip cookie recipes. If you haven't checked out this blog, I highly recommend it! It's written by sisters who have so many creative and yummy ideas in the kitchen. So fun!
I made this delicious dough from the recipe (I'm sure you can't imagine how I know the dough is delicious...). It was so simple and quick that I forgot to take any photos of the process. Oops!
I placed scoops of the dough on my bar pan stone spaced evenly apart from one another. These cookies didn't spread too much so next time I could probably place them a little closer to one another.
I used the back of a spoon to flatten the dough a bit. I didn't do that on the first batch and they came out in the same shape as the scoop. Again, it's a thick batter that doesn't spread too much.
Golden brown and oh, so, yummy! It was hard to not eat them just like this.
But once I had one like this, with the chocolate buttercream in the middle, I knew it was worth the wait!
Don't forget to check out all of the other wonderful recipes linked up below. And please vote for your favorite Ultimate Chocolate Chip Cookie recipe!!! My recipe is number 65, just in case you're wondering... :)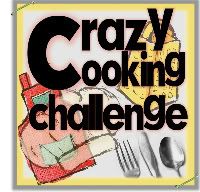 I'm linking up!!!

Melt in Your Mouth Monday

, Recipe Sharing Monday, Mouthwatering Mondays, Makin' You Crave Monday,

Tasty Tuesday

,

Too Cute Tuesday

, Tip Me Tuesday, Tuesdays at the Table, Tempt My Tummy Tuesday,

These Chicks Cooked

,

Works for Me Wednesday

,

Cast Party Wednesday

,

What I Whipped Up Wednesday

,

Foodie Wednesday

, Whisking Wednesday, Show & Share, {Wow Me} Wednesday,

Full Plate Thursday

,

Sweet Treats Thursday

,

Turning the Table Thursday

,

Sweet Tooth Friday

,

Chic & Crafty Party

,

I'm Lovin It

,

Tasty Thursday

,

Bake with Bizzy

,

Friday Favorites

,

Friday Flair

, Foodie Friday,

Sweets for a Saturday

,

Strut Your Stuff Saturday

,

Sweet Indulgences Sunday

, My Inner Baker, Simply Delish